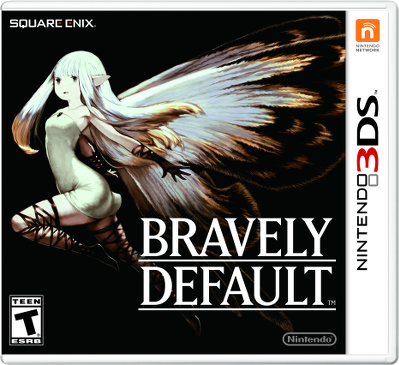 Welcome to the Bravely Default Walkthrough. Hopefully this guide for Bravely Default will help you out with any questions you may have about game play. If this walkthrough doesn't answer all our your questions please make sure to ask in our forums.
[edit]
About Bravely Default
Bravely Default: Flying Fairy is a RPG developed by Silicon Studio and published by Square Enix for the 3DS. Though not released as a Final Fantasy title, the game is a considered a spiritual successor to Final Fantasy: The 4 Heroes of Light which itself was a "spin-off"game to the Final Fantasy Series.
[edit]
About For the Sequel
For the Sequel is an expanded version of the original Bravely Default that contains new story scenarios and various improvements and changes. For the Sequel is sold as a 2990 Yen DLC for those that owned the original Bravely Default or can be bought as full game for 4990 Yen. The international release is based on this version, as is this walkthrough.
[edit]
How to Use This Walkthrough
Simply hit the links in the Table of Contents to the right to go to the page covering the section of the game you'd like to get more information on. The first few sections cover the main game walkthrough, while the remaining sections are appendices featuring lists of jobs, abilities, side quests and more.
[edit]
Editing This Walkthrough
This walkthrough was based on the guide originally written by Zoelius, viewable in text file format on Neoseeker's Bravely Default profile page. We have convered it into this wiki-style walkthrough, and registered members are welcome to help contribute and improve on it. It all starts by hitting the orange "Edit" button on each page, which brings up the editing screen for that page. Users familiar with wiki markup should have no trouble with the editing styles!
[edit]
Main Character Profiles
---
Tiz Arrior
Info:
A shepherd from the small village of Norende. Tiz is the only survivor after the catastrophe that struck Nolende. Tiz sets on a journey to discover the cause.
Agnes Oblige
Info:
The Vestal of the Wind Crystal. Agnes's duty is to protect the crystals, she sets out on a journey after an incident with the Wind Crystal.
Ringabel
Info:
A young man with no memory of his past, he has a book called the "Notebook of D" that can predict the future.
Edea Lee
Info:
Edea is a daughter of a Holy Templar, she is given the task of capturing the Wind Vestal for the sake of her nation.
Airy
Info:
A crystal spirit who accompanies Agnes and act as a source of guidance.
---
Last edited by
tekmosis
on Apr 25, 14 1:14pm