Call of Duty: Modern Warfare 2
Ditnopota's
Call of Duty: Modern Warfare 2

Review
Call of Duty: Modern Warfare 2


I've been playing Modern Warfare 2 on the PS3 for around a month now, and I figured it was due time to write a review for the game. So, readers, do you wanna find out if this game was worth the backed up Best Buy checkout lanes or $60 that millions and millions paid for it? Time to hop on the bandwagon and hide like a bitch in the corner in the detailed review...

Let me first talk about the graphics, as I normally do. Now, as opposed to what fanboys of the game may tell you, these graphics ARE NOT the best out there. I am not one to give a shit about Graphics in a game [normally], but for anyone looking for an FPS with gorgeous graphics, I'd refer you to games such as Crysis or Battlefield: Bad Company 2. In the single player campaign, enemy death animations are actually not half bad. In Multiplayer gametypes, these death animations are laughable at best. Again, this normally doesn't bother me, but whenever you stumble backwards slightly and to the floor after getting shot in the face with a Barrett .50 Cal, it makes the game look a little sillier than it already is. Another problem I have with the multiplayer graphics is that if you duck down behind ANY amount of tall grass, you are completely blinded by it, and it makes aiming almost impossible. That may sound realistic until you have one or two blades of grass smacking around in your view, and you end up getting killed by someone who didn't notice you until they saw you fumbling around in the grass to get a good point of view. This might just be a minor problem that only I would bitch about, but it still pissed me off when I was guarding an objective in an objective-based gametype, only to get taken down by a 9 year old trashtalker. Other than that, the single player campaign's graphics had minimal lag and framerate issues. The multi player had lag quite often, but it always went away after a minute or two. Nothing to bothersome, aside from a few annoyances here and there...

Now let me touch up on the audio of the game. In the single player campaign, the music is great. In the conclusion to the first real chapter of the game's solo campaign, the epic music behind it all really adds to the feeling of tension and severity of your situation, especially when playing on Veteran. Same with any mission that ends up going wrong and requires you to run like an altar boy from a priest. You feel like a complete badass during these portions, and that's apart of why Modern Warfare 2 is actually a worthwhile game. The music does make you feel like a master of espionage during the missions with the Special Ops-esque characters, which is good if people like to play stealthy [there are some points in the game which require it; although they aren't a huge part of the gameplay]. However, when the shit hits the fan, the music seems to help you feel like you're in that situation, shooting at generic bad guys and blowing random stuff up for no apparent reason. Well played, Zimmer, well played...


This is obviously not a real picture of gameplay because no one is using Commando



Now, there are some faults with the audio. Most notably the voice acting, which does have some dips for certain characters [usually the generic baddies' death screams]. Although, the voice acting certainly isn't as bad as most other games out there right now [i.e. Heavy Rain, Dead Rising 2, etc], but there are some very slight moments that felt a tad slacking. However, the guns all sound very nice and accurate to what you'd think they'd sound like in real life, which is a plus for any gun freaks looking to get this game. This remains in tact in Multiplayer as well, but there is one small problem with the multiplayer's audio. Almost everyone with a headset sounds like shit. And I'm even referring to people that had decent headsets. No matter what, I can barely manage to make out anything anyone is saying, which is a big no-no for objective based gametypes. If you're playing on 360 with a few friends, I'd highly reccomend you create a private chat with your friends to avoid MW2's shitty mic audio. However, if you play on PS3 like I do, I suppose you're just going to have to deal with it. Overall, the audio isn't that bad, but it isn't that great either.

Now, MW2's singleplayer gameplay is fairly enjoyable. The enemies have terrible AI, granted, but that's not anything that Veteran Mode can't fix [even so, the game is still a hell of a lot easier than World at War's Veteran Campaign, so you shouldn't have too much trouble]. One thing that I dislike is how the Options of Multiplayer transfer over to your Campaign mode and vice versa. The reason I dislike this is because I sometimes like to bump my sensitivity up to 7 in multiplayer so auto-aim will be more useful, but I always keep to 2 in Campaign because manual aiming is more useful than anything in singleplayer. Also, to all the Bioshock fans out there, I reccomend putting the button layout to 'Tactical', because that will make R3 the crouch button [and the knife button will be B/Circle, which is far easier to manage in my opinion]. There's also a nice mixture of high-paced gunfights and slow motion badass moments [see: Cliffhanger]. If it weren't for such a broken cover system and terrible hit detection, the campaign might actually be good enough for me to move past its 5 hour length. Let me give you examples [of course, using Veteran mode as the assumed difficulty of choice]. If you pop out from behind cover to take a few shots at the enemy, you're most likely going to get hit around 4 times. That means that 1 or 2 more shots will kill you. As you hastily go back into cover, the enemy can still hit your arm as you are almost in the safe zone and just *bleep*ing kill you. Don't get me wrong, I like a challenge myself, but whenever you die consistently because you can't get your arm behind cover fast enough is just silly. And then about hit detection. Let's say you pop out of cover with a FAL with ACOG scope and you take aim, having the enemy in the dead center of your aiming reticle. Now, if you fire, chances are that you'll hit the enemy. But every so often, your shots like to not register, and then you end up getting killed because of the barage of fire that rains down on you the second you leave cover. I might be the only person ever to have had these problems, I don't know, but from personal experience, these are the only two big problems I could see with the campaign's gameplay. There are also things called 'Intel' which act as Modern Warfare 2's sort of collectible, but collecting them doesn't unlock any extra features like the death cards in World at War. No, instead, these Intel just give you two Achievements/Trophies if you get every single one. Whoopdey doo. Also, you play as a few different people throughout the entire game. Ramirez, a soldier that is required to pretty much do all the work for his batallion; MacTavish, a Tyler Durden wannabe; and then a CIA guy who ends up getting killed during a contraversial airport mission and then another Special Ops guy who also dies. The gameplay only differs between Ramirez and the Special Ops characters in pacing, so you needn't worry about vehicles like in World at War. While playing as Ramirez, you will actually be fighting the war and getting hit from all sides, so his chapters are most certainly the hardest ones. In the MacTavish and other Special Ops character missions, you'll just be looking to do Special Ops shit [finding a certain person for interrogation, uploading files into a computer while fighting off incoming attackers, and murdering hundreds of innocent civilians in a Russian airport... what, what?]. Overall, it's just cut and paste all the way through, and playing as different people throughout the game doesn't even change up your abilities as you go, which is a huge disappointment. Also, I never played COD4, so the following paragraph might be a bit incorrect.


"Ramirez! Spawn trap the enemy with this noobtube!"



The Campaign's story is [excuse my pun] a whole different story than the gameplay, and not in a good way. This takes place in or around the future war of World War III, in which the Russians invade the US or some lame shit like that. Pretty much, you have to go around as one of the aforementioned four characters to complete objectives ranging from shooting one guy, to shooting this one other guy, to shooting another guy over in the distance, to running for your life with a slow motion climax. The whole aim of the Special Ops guys is to take out some Russian person named Makarov. I have absolutely no clue what influence he had on World War III or why they hate him so much, but that's how it is I suppose. The whole goal of Ramirez is to just fight in the war, which makes his character a little less pretentious than Soap or the other Ops guys. There's also a betrayal somewhere, and the ending is actually very awesome. However, this is pretty much all I can say for a game which has a 5 hour long main campaign but still sold over 25 million copies for some reason. The story is mediocre, but you'll probably still buy the game because your friends play it.

Now onto Multiplayer gameplay! If you dislike reviews that tend to rant more than review, please skip this paragraph. Modern Warfare 2 really gets bashed for its Multiplayer, and for good reason. Think of Campaign, but with benefits for cheaters and hinderence for actual players. And to top that off, none of the guns have sufficient recoil except the MP5K, and even so, it is still accurate at long range. Now onto Perk and Weapon complaining. There is a first-slot perk known as Marathon, which allows you to run longer than you could before. There is a second-slot perk known as Lightweight, which makes you quicker when you sprint. There is a third-slot perk known as Commando which gives you a katana in the place of your knife [not really, but the ability to jump at your enemies and stab them to death after they've shot you 5 times is just as ridiculous]. Now, the combination of these three perks makes one of the most godly and overpowered knife classes ever. Plus, if the person using Commando for knife-only has host of the match, you can consider the game a loss before it even begins. Hell, they can throw a Tactical Knife on their handgun and be EVEN MORE ABLE to completely own everyone, regardless of if you're a great player or not. Now, how about an explosives class! A person can do one of two things when creating an explosives class. They can
A) Throw on Danger Close [perk that gives extra explosives damage] and One Man Army [perk that replaces Secondary weapon and allows you to restock all your ammo at anytime], as well as an Assault Rifle with a Grenade Launcher. They can then restock all their explosives any time they want during a match, and then just use them the entire time.
or
B) Throw on Scavenger [a perk that resupplies all your ammo if you kill someone and go over to their body], an Assault Rifle with Grenade Launcher, and have their secondary either be a Thumper or an RPG.
And viola, they can be just as cheap as Commando knifers with just explosives! And then boosters, campers, quickscopers... God, don't get me started. MW2 has terrible Multiplayer, which is a shame, because it also has an extremely short Campaign. That's like being a transexual butterface; it just doesn't go well together. I could go on for days about how flawed this game's Multiplayer is, but you probably hear it all the time from anyone who plays the game.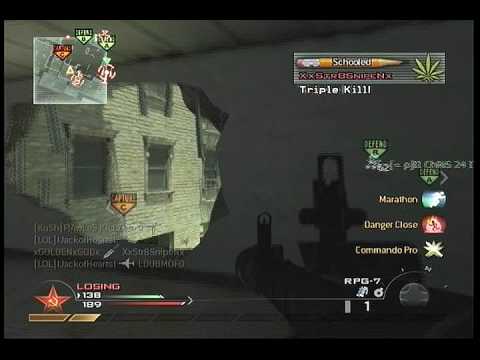 Who needs OMA when you can just combine the two cheapest classes?



Now, let's talk about Spec Ops. Spec Ops is a special mode where you must complete minigame-esque missions. I say 'minigame-esque', because these missions still play out like the Campaigne and Multiplayer, but the objectives are way more fun and challenging. There are 4 categories of missions, and you unlock a new category whenever you reach a certain number of stars. You earn stars by completing the missions within the specific requirements [i.e. playing on Veteran, coming within the time limit, refraining from killing civilians, etc.]. A few of the missions are reminiscent of some maps from the actual campaign and multiplayer, but there are a few extra maps pepperred in from time to time. Some of the missions require you to play with a friend, but I like the option to play either on your own or with some friends. I played both ways. I tried some maps on my own, and when I tried them with my friends, they did seem to be far more entertaining. So, if you get the game for Spec Ops, be sure to get your friends to play it with you to get the most out of it. Also, the missions do get progressively harder as you go along, but nothing really gets too out of hand. Definitely the best part about the game, and I cannot wait to see if it gets implemented in future installments of the Call of Duty series.

Well, I'd say that about sums up my feeling on Modern Warfare 2, but I won't forget about those of you who are too lazy to read the entire review. Pretty much, Modern Warfare 2 is an FPS game with good audio, semi-decent graphics, and very entertaining gameplay. The Multiplayer will occupy you for a few weeks, but once you start realizing how much cheating happens in the game, you'll start getting extremely tired of it and you will most likely pop in another disc to replace the game for quite awhile. MW2 also has an amazing mode called Spec Ops that is the only thing that I see really worth picking the game up over. As long as you're fine with spending $60 for only one decent mode, then MW2 should be your game. Modern Warfare 2 for the PS3 gets a 2.5 out of 5.0.