Dead Space
Ech0ez's
Dead Space

Review
Dead Space


For year people have wondered what it would be like to play a game inspired by the Alien franchise; a game inspired by the first two films in the series, pitting you against hordes of alien life forms in the middle of a dark ship whilst leaving you with little method of escape, the epitome of horror in the film industry. Other people wanted to see a game that took the rather in-your-face and downright mind-*bleep*ish horror of Event Horizon and bring it to the industry, traumatizing several people in the process. And a few strange people just wanted to see some messed up creatures out of The Thing actually play the role of the antagonists in a game outside of the surprisingly decent game inspired by the series. Well quite possibly the bastard child of those three films hen they sll got drunk one night and EA's attempt to bring a good horror game to today's generation of gamers; Dead Space was released in October 2008. It received near universal praise for been 'innovative' despite really not been at all, and was also branded among the best horror games of it's time despite it having practically no competition. Looking back over a year later, was it really that good?

The story and setting could very easily be summarized as Alien meets Event Horizon, but for the unlucky fools among you have seen neither film Dead Space takes place in the long distant future, when he have giant spaceships that turn planet into fuel by breaking them apparently. The finest of these ships is the USG Ishimura; several hundred successful planet cracks and a crew of over a thousand lucky individuals who get to spend their lives inside a dreary gray spaceship mining planets and doing whatever it is they do to fill the time in their boring existence. Apparently there's a technical issue aboard the ship so they call for assistance, and this is where you come in. You're going to be taking on the role of Isaac Clarke; an engineer with about as much personality as a brick and about as talkative as one too. This brilliantly scripted and believable character you can clearly relate to is here to help fix the ship, along with his captain Zach Hammonds whom is effectively the unwanted child of Samuel Jackson and Lawrence Fishbourne with all awesome sucked out, and Kendra Daniels a bitch with nothing to do but bitch about every little thing that happens. There are also a few nameless guys who have red eyes and are quite probably the spawn of the devil, but they all die within the first ten minutes so it doesn't really matter. Upon arrival at the Ishimura, which sums up to you crashing into the ship for no apparent reason, everything goes to hell when you're separated from the rest of your crew by quarantine and then watch all but Samuel Fishbourne and Bitchy McBitch get murdered by some grotesque creatures that intend to kill you as well. Taking to the nearby corridor like only a man with some impairment in his legs can, Isaac escapes the foul beasts and comes across an engineering tool that he decides would make an appropriate weapon and proceeds to watch a nearby human get mutilated by another one of the monsters without showing any emotion and then dispatches it like he's been fighting these things since he was six. From the marvelous tale takes off, as you struggle to survive and escape the Ishimura, although you're more likely going to have trouble surviving the horrible story than you are the aliens.

Dead Space is a very confusing game for me, the concept is cliché but brilliant; you take an engineering crew with no experience in the realm of combat into a giant ship swamped in darkness and flooded with blood-thirsty aliens and have them try to survive. Any half-assed writer could pen a decent story from this, yet Dead Space somehow manages to screw it up. Our protagonist Isaac is really here because his wife works on the Ishimura, yet despite having no contact with her for months and then discovering the ship is infested with monsters and dead people Isaac doesn't show any emotion whatsoever. Nor does he respond to the horrific sights he's faced with, and he never once verbally responds to either Lawrence Jackson or the Bitch. No damn it, I will not use their actual names. Speaking of which, neither of your companions are at all likable. Morpheus Windu takes on the role of trying to save your lives and does nothing but order you about whilst doing absolutely nothing himself aside from somehow avoiding confrontation with the aliens which are all over the entire ship. And Bitchy stays true to her nickname and does absolutely nothing but whine about everything whilst also doing nothing to help you. This is further made worse by the fact that there is in fact a deep story to Dead Space and a tale of betrayal and conspiracy, but it's utterly ruined by the characters. Isaac could be substituted with a brick, Kendra just doesn't fit her role and Matrix meets Snakes on a Plane seems to know exactly what you need to do, whilst managing to do nothing himself. This also show in terms of the monsters; the aliens you're fighting are the Necromorphs; dead humans that been reanimated and mutated by a virus that's spread by bat-like creature s called Infectors. There's obviously a lot to work from there, to build up a great story but Dead Space barely touches upon the concept, and most of it is through research done by other characters which is presented through logs they kept. The logs actually do provide a decent story and add to the atmosphere of the game, but they simply don't make up for the lack of substance in the present tense of Dead Space.

The universe and lore surrounding Dead Space is amazing, the Wii game that serves as the prequel, the comic series that also serves as the prequel and the movie Downfall which is… also a prequel… all of them have superb stories, and with THREE god damn prequels to the game there is a HUGE degree of backstory and universe to work from, yet Dead Space fails to tell a decent story. Granted Extraction came out after the first game, but even if Dead Space had take inspiration from the narrative of the comics it would have been hundreds of times better than it is now. Heck, even if they'd just given Isaac a personality the game would have had a half decent story, but as it stands Dead Space has about as much story as my glass of coke I'm drinking from as I write this, and I could probably construct a story out of that that's more interesting than Dead Space. It's unfortunate, but on all counts within the game itself Dead Space has a mediocre story, and tells it horrendously.



Bustin' heads since 2008.

Placing the story itself aside, if there's one good thing that came out of then it would be the setting. An abandoned spaceship that's become a hell in space for everyone on board gives you a fair deal to work with in terms of aesthetic, and when it comes to the visuals Dead Space is stunning. Granted the game suffers from the typical palette of gray, red and black that most games suffer from these days, but it works in context of the ship itself, making it a rather disturbing environment to move about. The ship itself is crafted brilliantly; you'd think you were on the set of Event Horizon for most of it, although one does have to question why the ship is so mechanical. Surely if thousands of people live here you'd expect it to look a little more hospitable, even a few shredded carpets and furniture about would have given it a better atmosphere. I personally would have preferred that approach a great deal, evidence of people actually living here and then meeting their end upon the arrival of the Necromorphs, as opposed to been inside a hellish ship that seems like it was built for the monsters to inhabit. Speaking of which the Necromorphs look superb… in a disturbing "I'm going to rip your face off and eat it" sort of way, and they actually look the part of intimidate and disgusting alien life whilst still resembling the humans they once were, and as the mutation within them move them further and further from humanity you really do get this sensation of fear and disgust when you look at them. There's no faulting the art direction in Dead Space, from the ship itself to the Necromorphs, to the mutated flesh that spread about the ship, all of it is designed amazingly. The lighting in Dead Space is also top-notch, a huge amount of the atmosphere in the game comes from the use of lighting, the sensation of entering pitch black rooms with nothing but a flashlight only to scream as the quarantine comes on and the room is illuminated in flashing red lights and you see the shadows of the Necromorphs surrounding you, I honestly cannot name a game that uses light better than Dead Space.

Moving away from the visuals and toward the audio of Dead Space, there's little that sums this fraction of the game up better than 'hit and miss'. The sound effects are top notch, from the tearing sound of the Ripper to the screams of the Necromorphs and the banging of doors in the distance, there's no fault to Dead Space's sfx. Music adds to the mood, but it's often just in the background until you're face with conflict where the game tries to step up a musical track to add to the combat, but it does little more than assure you of the presence of Necromorphs. Voice acting is mediocre and does little to enhance the horrible dialogue that plagues Dead Space, which is unfortunate. Needless to say individual elements aside it is the execution of sound in Dead Space that sets it apart from most other games; the clever use of noises in the dark and surround sound really keep you on edge throughout the title, Dead Space is a game where headphones are a necessity to get the full experience. The only complaint I really have with the audio is that Dead Space is far too loud, and honestly I think there's some ulterior motive here involving the attempted deafening of gamers worldwide. That or EA just like to be noisy.

The general presentation of Dead Space is a mixed back, visually and aurally the game is fantastic but in terms of story it's about as impressive as shooting a fish on the beach that's already dead. Still between the setting and the aesthetic elements Dead Space would surely make a great horror game, no? Unfortunately it doesn't, no actually it does for a time. For the first five chapters or so of the title you'll find yourself on edge, shaking as you peer around the next corner waiting for whatever trick the game has up its sleeve next. You've dealt with Necromorphs rising from the dead, leaping out of vents, terrifying light and sound work, a lot of startling moments and even been hunted by a beast that won't die. And unfortunately it's there that it all stops. Gone are the terrifying moments of Dead Space and in comes the recycling. The whole 'monsters in cupboards' approach only works for so long, and it's around Chapter Six that you realize Dead Space is simply out of tricks to play on you, so it goes about repeating the old ones. Unfortunately most of Dead Space up until this point was a tense atmosphere been exploited by jump scares, so now that you're used o the atmosphere and you've been startled a good twenty times or so, you'll find there's nothing left. Dead Space is like the six year old kid who keeps yelling 'BOO' behind your back and it stops been scary just as quickly. It's a shame because there are a lot of highlight to the experience, from been chased by a Necromorph at the very beginning to getting startled in the silent zero gravity areas of the game, but as a whole Dead Space loses it's scare-appeal very quickly.



Unsuspecting Isaac was about to be jumped. Little did the silly Necromorph know that he was messing with a relentless killing machine.

So in terms of presentation Dead Space is good for the first half of the game, and then it screws itself over. As such you'll be glad to know the gameplay is consistent enough to follow the presentation to the bone. It gets repetitive, boring and dull at pretty much the same point. In fact you may as well just rent Dead Space play chapters one through five, maybe six and then put it down before you view on the game is ruined.
…
…
…
Still here? Fair enough, Dead Space is a third-person shooter that features an over-the-shoulder perspective just like Resident Evil 4. It also features a large assortment of weapons just like Resident Evil 4. You can upgrade different attributes of these weapons which will even carry over to a New Game + file that for some reason won't let you adjust the difficulty, just like Resident Evil 4. In fact the whole core gameplay in Dead Space really is just a twist on Resident Evil 4, the presentation may be vastly different but the gameplay is almost identical aside from the unique quirks each title had. The funny thing is they have another big similarity, and that's been crappy console ports. Dead Space suffers from a horrendous control scheme, and this is solely because of the camera. You move the camera and the cursor which you shoot with using the mouse. However the speed at which this moves, and the field of view you're granted is extremely limited. This is apparently to create 'claustrophobia' in terms of gameplay and atmosphere, but all it does is make Dead Space a chore to play. There are ways to fix it, but non in-game which is simply ridiculous, the whole appeal in PC gaming is the freedom you have that isn't there on consoles, and Dead Space pisses all over that. This is also apparently when you want to save as Dead Space uses save points as opposed to a save anywhere system. I'm sure there's some point to this in regards of the atmosphere, but in gameplay terms it does nothing but make the game even more frustrating than it is already. It's a shame as well because those issues aside the core gameplay in Dead Space is pretty much flawless, but these two faults detract from the experience a great deal.

Putting aside those faults for the time being, Dead Space once again drawing inspiration from Resident Evil 4 is effectively an Action-Adventure game; you explore the Ishimura upgrading your abilities and completing objective whilst you decapitate, amputate and downright mutilate everything that crosses your path. Dead Space is very linear, the environments are claustrophobic to add to the atmosphere but this also limits the stuff you can do in them, further emphasizing the linearity. If Dead Space wasn't linear enough already you're also given very clear objectives by Lawrence Jackson and you're given a very handy tutorial through awesome little pop-up screens. About as handy and awesome as the infamous Zelda series Navi was anyway. Furthermore you can also bring up a very cool looking blue line that will lead you straight to your objective… you know the more I go on the more I begin to question why so many people revolted over Extraction been a rail-shooter. The only way the original game could have been anymore linear is if it was on-rails, and even then I'm not so sure it wouldn't have played better. If nothing else you're never going to get lost in Dead Space, and there is some challenge to figuring out the few puzzles you come across throughout the experience which is nice while it lasts.



Rated 18+ for scenes of graphic Necromorph on Robot action!

Moving away from the explorative elements I figure I should probably discuss the combat in Dead Space, although it can pretty much is summed up to "Resident Evil 4 with added dismemberment". The biggest gimmick in Dead Space as well as it's biggest selling point was the STRATEGIC DISMEMBERMENT (Imagine that been said out loud in a really badass voice or something) although how dismemberment is actually a selling point is beyond me. In Dead Space you'll find that headshot do nothing more than leave your foes swinging their arms about like the trying to swat a fly, and as such you'll be aiming for any appendages they have. Arms, legs, tentacles, tails, genitalia, if it hangs off you can cut it off and thus kill your varying adversaries. There's a fair deal of variation in the foes you encounter in Dead Space, although all variation is pretty irrelevant considering it often amounts of more limbs to cut off, and you often know exactly how to handle whatever it is you're faced with anyway. There are also a few bosses scattered through Dead Space although in all honestly they plain and simply aren't worth mentioning. Moving away from cutting your foes up and towards you weapons of choice, you'll find weapon schematics and weapons throughout Dead Space and the former can be converted into weapons at stores. You have a large assortment of devices to choose from but you can only carry four at a time, although of the huge range of devices you'll find you only ever really need to use about three. It's a shame since what made the variety in the weapons in Resident Evil 4 so good was that specific weapons all had uses, where as in Dead Space the majority just vastly inferior to the very first weapon you attain. The upgrade system further imbalances this as you'll find that the guns 'level up' at different rates and most of the time the majority are still useless. Speaking of upgrades you have stores and benches throughout Dead Space; stores let you stock up on items and benches let you upgrade weapons using 'power nodes' which you locate through the experience. Obviously inspired by the Merchant in Resident Evil 4, one has to question why these stores are here. Did the people who lived on the Ishimura buy and upgrade weapons to pass the time? And for that matter where is our money going? It's obviously a physical object given that you collect it from about the ship and from Necromorphs. Heck why do the Necromorphs have items and money on them, the undead mutations hardly have any use for it. Dead Space inherited the absurdity of Resident Evil 4 along with all the other elements evidently.

Putting aside the core gameplay mechanics Dead Space does offer a few twists to the genre. The 'stasis' mechanic lets you slow down specific objects and enemies, letting you combat your faster foes and make you way through hazardous things such as giant fans and doors with minds of their own. The stasis mechanic is really fun to use and adds a bit more depth to the game, but to me at least it seems like there a lot of potential here not being exploited unfortunately. You also have 'telekinesis' which lets you pull objects towards you and propel them away. It's basically yet another variation of the trend Valve started with the Gravity Gun in Half Life 2, although whether it was just ripped straight out of Bioshock without even changing the name and appearance is debatable. The telekinesis mechanic is also rather underutilized especially given the potential for use in physics puzzles like Half Life 2 demonstrated, s opposed to just picking up batteries and sticking them into slots. Finally you also have 'zero gravity' sections, probably the only truly unique and genuinely amazing then Dead Space does. In specific areas you're able o go out and leap in zero-g, effectively 'flying' across rooms and running along ceilings and the like. If you don't feel sick in the process this is a really fun idea, especially since Necromorphs are also affected by it.



Omnomnomnom

Unfortunately unique mechanics and a solid core gameplay ideal aren't enough when bad design kicks in, and as the game goes on repetition becomes a serious hindrance to Dead Space. There is so much potential here for a masterpiece but it's squandered due to poor execution. Going back through areas times and time again with no change really hurts the title, and the otherwise innovative combat system never really becomes any more varied than it starts, making it tiresome by the end of the game. The upgrade system offers a nice RPG element but gets thrown away due to poor balancing of the weapons themselves, and the unique quirks in the gameplay like zero-g are sparse and unfortunately do little to brighten up the otherwise dreary experience. Dead Space is a game with vast potential and it's clear from start to finish that there was just so much room for the game to expand, but it simply never does. The gameplay has dozens of unique and truly brilliant ideas but many are either ruined in execution, suffer from overuse and a lack of evolution or just practically forgotten about after a few minutes, where as the presentation suffers from never changing, trying to pull of the same trick a hundred times and wondering why it doesn't work after you've already seen it the ninety-nine times before. The game does pick up again nearer the very end, but unfortunately by then it's a little too late.

Dead Space is by no means a bad title regardless of all my gripes with it, but it feels like such a wasted effort. If the game had continued to climb in quality at the pace of the first 5 chapters, had offered more variation and actually evolved as it went along instead of attempting to repeat itself it could have easily been one of the best games in its whole genre. As it stands it's the Olympic contender whom breaks his leg half way across the course, and gets a consolation medal for trying.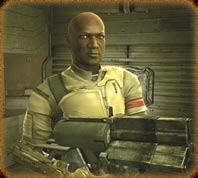 "I am sick of these motherf**king aliens, on this motherf**king spaceship!"